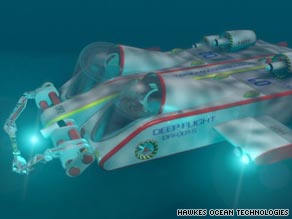 Super-light sub has capability greater than U.S. Navy
: "The 'Deep Flight' winged submersibles are experimental prototypes designed to dive to depths of up to 37,000 ft -- almost four times as deep as a giant squid dives -- descending at 400 ft/minute.
They are the brainchild of submarine designer Graham Hawkes who is in the process of building commercial models that can reach those depths.
Hawkes has been designing submarines since the 1960s, working initially with the British Special Forces and then for the oil industry.
He now sells his designs to wealthy sailboat owners as the ultimate yacht accessory."